Design Reshaping Human Experiences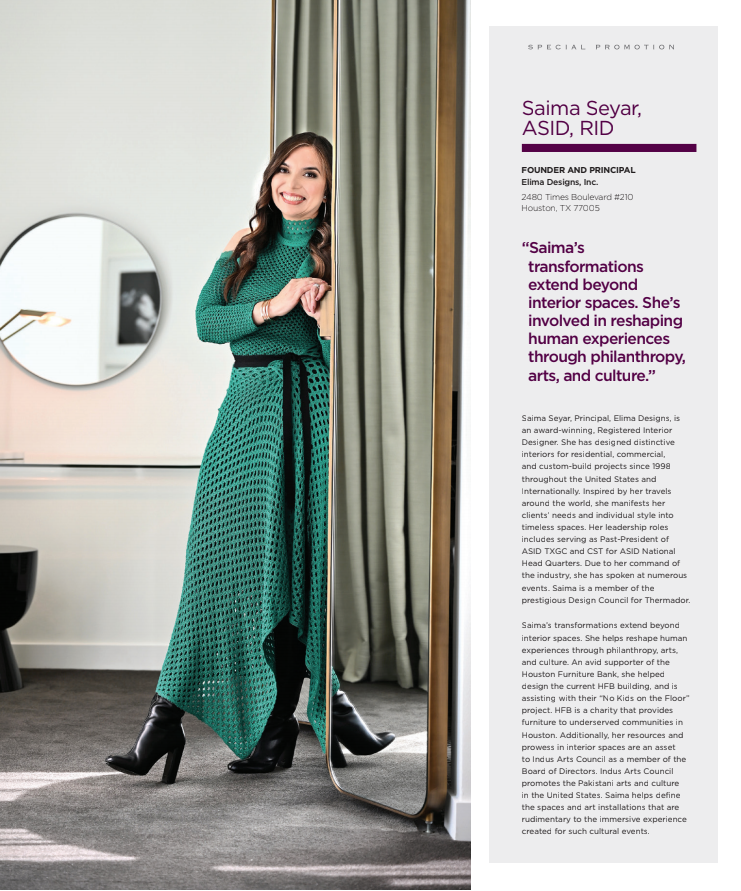 Saima Seyar, Principal, Elima Designs, is an award-winning, registered interior designer. She has designed distinctive interiors for residential, commercial, and custom-build projects since 1998 throughout the United States and Internationally. Inspired by her travels around the world, she manifests her clients' needs and individual style into timeless spaces. Her leadership roles includes serving as Past-President of ASID TXGC and CST for ASID National Head Quarters. Due to her command of the industry, she has spoken at numerous events. Saima is a member of the prestigious Design Council for Thermador.
Saima's transformations extend beyond interior spaces. She helps reshape human experiences through philanthropy, arts, and culture. She's an avid supporter of the Houston Furniture Bank and helped design the current HFB building. She's also assisting with their "No Kids on the Floor" project with International Family Education Foundation. HFB is a charity that provides furniture to underserved communities in Houston. Additionally, her resources and prowess in interior spaces are an asset to Indus Arts Council as a member of the Board of Directors. Indus Arts Council promotes the Pakistani arts and culture in the U.S. through Urdu language classes, children's theatre, and cultural events. Saima helps define the spaces and art installations that are rudimentary to the immersive experience created for such cultural events.